Puremessage For Microsoft Exchange
Here are a few 'off the top of the head' answers from the engineering manager for PureMessage for Microsoft Exchange (PME):
PureMessage installs Microsoft.NET Framework 3.5 Service Pack 1 as a prerequisite, because of which you may experience issues with components related to Exchange Web services including: Outlook Web Access.
Puremessage For Microsoft Exchange Free
PureMessage for Microsoft Exchangeis software that provides integrated gateway and messaging protection from viruses, spam and unwanted email content. It scans all internal, inbound, and outbound email messages and Exchange server stores. It also includes threat reduction technology to protect against.
This knowledge base article provides information on the retirement of platforms and operating systems that are supported by PureMessage for Exchange. Retirement is when all urgent software fixes, protection updates, and support will end. The following sections are covered: Windows/Exchange/SQL Server; Related information.
Yes, PME will send an email to users summarizing messages that have been caught by the spam filter.
PME is supported on Exchange Server 2003 and 2013. However, they are two different product versions. It is possible to import settings from the old version into the new version, but the process is not always 100% accurate, so it requires manual checking of the settings after the import.

You can apply policies to specific mailboxes or groups (Active Directory or custom). I'm interpreting here, but I believe this means that PME will be 'on' for the entire server, but you could essentially disable any type of protection for users that aren't in the sandbox group.
If you have any questions about how to configure or implement any of this, I'd recommend the documentation (as you noted) or contacting product support. Good luck with the implementation!
Today sees the release of PureMessage for Microsoft Exchange (PME 4.0) to support Microsoft Exchange 2013. At this stage PME 4.0 is a separate download from the PME 3.1.3 version that supports Microsoft Exchange 2003, 2007 and 2010. We are planning to integrate both versions into a single install set soon.
PME 4.0 enhancements include whitelisting of attachments to exclude them from content filtering and auto-configuration of Active Directory settings on start-up.
Read on to learn more about this update.
It began on a specific date with a panel of judges to oversee it. In this case Mongke Khan ordered them to debate before three judges: a Christian, a Muslim, and a Buddhist.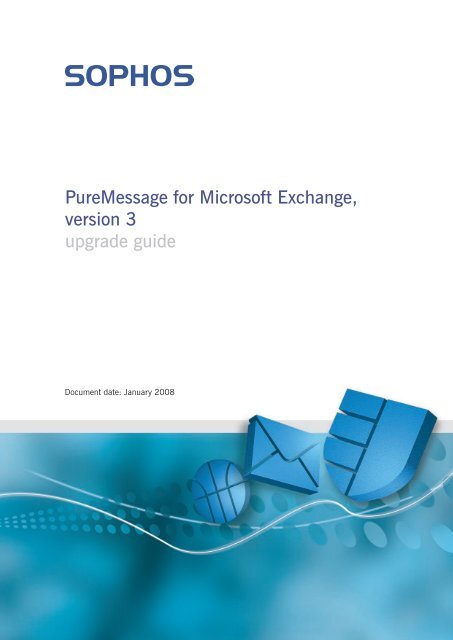 What are the big differences from PME 3.1.3?
The differences in PME 4.0 are mainly due to Microsoft Exchange 2013 enhancements, rather than any changes in PureMessage for Microsoft Exchange. Microsoft Exchange Server 2013 introduces a number of new features including a single web-based administration interface, reduced server roles, and high availability improvements.
The one major change for PME 4.0 is information store scanning support. Microsoft recommended in previous releases that anti-malware vendors use their Virus Scanning API (VSAPI) to provide information store content scanning. Microsoft said it has removed this API in Microsoft Exchange 2013 because scanning of very large information stores does not scale, leading to performance and stability issues.
Puremessage For Microsoft Exchange 2019
The retirement of the VSAPI means that PME 4.0 now provides background scanning (scanning the information store after every virus identity, or IDE, update) of Exchange private and public information stores using the Exchange Web Services API (EWS API). In following the Microsoft recommendation to scan mail in transit, PME 4.0 does not support the legacy proactive and on-access information store scanning modes.
At the time of this release, the Edge Transport server is not available in Microsoft Exchange Server 2013. However, you can continue to use your existing, or install a new, Microsoft Exchange Server 2007 or 2010 Edge Transport server in your perimeter network.
Puremessage For Microsoft Exchange
Where do I find information on PureMessage for Microsoft Exchange 4.0?
Puremessage For Microsoft Exchange 2019
Learn more about PureMessage here.
Puremessage For Microsoft Exchange Login
Find more product documentation and release notes here.